Bill Belew has raised 2 bi-cultural kids, now 34 and 30. And he and his wife are now parenting a 3rd, Mia, who is 8.
Not everyone is happy when big brother is watching them. But I am.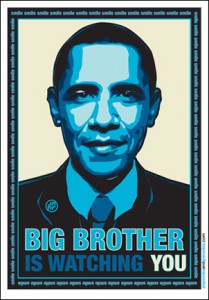 Alobama (Editor: Obama) may be trying to turn our country into a social club with the introduction of his new Health Club (Editor: socialist country and health care), and with his actions everyone wonders if our country will develop into a community church (Editor: communist society) or some such and have big brother watch us all the time.
I don't know about such things, but I do know I love it when Big Brother watches me!
My big brother, Micah, is a mole electro cute scientist (Editor: molecular) and he studies at UC Davis about a good nap away from where we live. He is visiting this weekend. How funnie….
I love it when my big brother comes because he watches me, he plays with me, he gives me candy, he carries me on his shoulders to the store and back, and he lets me watch Bob on his Mack the truck. (Mac laptop.)
I can't wait till our government comes out to play and gives me candy and carries me and and…watches me.
Isn't that the direction our country is headed?
Talk to Bill and others about their experiences raising bi-cultural Japanese-American kids.