Bill Belew has raised 2 bi-cultural kids, now 34 and 30. And he and his wife are now parenting a 3rd, Mia, who is 8.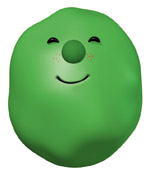 My big brother doesn't like peas.  In fact when he eats mixed vegetables he picks them out. When he eats fried rice he picks them out. When he goes to the super market he'll also avoid the frozen vegetable section!
Me, I think peas is great.
I can get an old sailor to drop whatever he is doing anytime and in a moment's notice, throw me a smile, bend over and give me a lift or take me to the park with 'peas.'
I can also get a CFO to put her calculator aside, stop counting money, turn off her computer, even reroute her intentions to go the bank and get me a cup of juice with 'peas.'
Seriously. I can.
Toyota, I hear, needs the magic of peas, too.
According to a LOT of reports, gas pedals in their cars are getting stuck and people can't stop them even they use 'peas.' Just yesterday some guy's Prius reached 94 mph (who would have thought a Prius could go that fast? leading my daddy to doubt the report) before the cops told him how to stop the runaway car. Toyota doesn't seem to buy it, saying they are misty eyed (Editor: mystified).
Perhaps if Toyota just asked drivers, "Peas tell the truth" we'd really know what this is all about.
'Peas'* works wonders.
And having dimples doesn't hurt either.
—
Editor (also known as my daddy)….Peas for those who haven't figured it out … is, of course, 'please.'
Talk to Bill and others about their experiences raising bi-cultural Japanese-American kids.