Bill Belew has raised 2 bi-cultural kids, now 34 and 30. And he and his wife are now parenting a 3rd, Mia, who is 8.
China has laid down the law. It's time that the great protector get great protection.
China's cultural relic protection law has spoken: No more!
The following are outlawed and violations will incur penalties up to 50,000 yuan ($6400) for individuals and ten times that for organizations.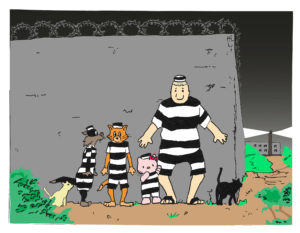 The forbidden crimes:
1. Taking away earth – but if it is cheaper to haul dirt from the wall by paying the fine than from hauling elsewhere….then…
2. Taking away bricks….uh, oh.
3. Planting crops on the wall
4. writing/carving your name into wall
5. installing facilities not related with Great Wall protection
6. driving across the wall – how would anyone do that?
7. exhibiting articles that may damage the wall…I guess this would include exposing body parts and relieving one's self at the Wall.
8. organizing activities in off-limit sections
At least we can still dig tunnels through or under the wall, eh?
Guess, I'd better take back that stone I brought home from the wall. I hope I can find it.
Maybe you are interested in:
20 Facts about the Great Wall of China – And One Myth Debunked
Talk to Bill and others about their experiences raising bi-cultural Japanese-American kids.