Bill Belew has raised 2 bi-cultural kids, now 34 and 30. And he and his wife are now parenting a 3rd, Mia, who is 8.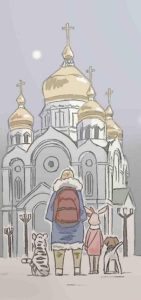 The oldest company in the world that has been continuously owned by the same family can be found in Japan.
The name is Kongo Gumi. And it is now run by the 40th generation of the same family.
It is a construction firm that began by building the Buddhist Shittenou Temple.
The temple was built in 578 AD and is still standing.
Wow! I want these people to build my house.
Come to think of it, I believe my ex-mother-in-law used to work for them…in 578 AD. How a witch came to work on building a temple? I'll never know.
The second oldest continuously owned company in the world is also in Japan. It is Japanese Inn that was started in 718 AD.
By contrast, the oldest continuously owned company in the states is a mere babe – Zildjian Cymbal Co. gets the honor. It was started in 1623, the same year they built their web page. (Actually, it's a pretty cool web page.)
To know more about family businesses, go to Family Business Magazine.
Talk to Bill and others about their experiences raising bi-cultural Japanese-American kids.