Bill Belew has raised 2 bi-cultural kids, now 34 and 30. And he and his wife are now parenting a 3rd, Mia, who is 8.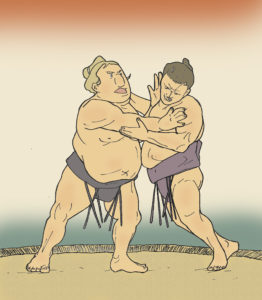 Japan borrows many words from the US. sarariman = Salary man, pasokon = personal computer and so on.
But how many words have made their way from Japanese into the English language?
The list is short but the Japanese are proud of the fact that some things Japanese are recognized the world over.
In the list are:
Tsunami – is not a happy word. It is a high tidal wave that is generated by a shift in the ocean floor. Since Christmas of 2004, nearly everybody knows this word. Nearly ALL parts of the Japanese seacoast have been hit at one time or another by a tsunami.
Sushi – everybody loves sushi – or say they do. Sushi, however is not a sashimi (raw fish). I wonder how many people think they are being 'cool' when they say "I like sushi because they think they are eating raw fish." When they are not eating raw fish at all. They are eating some weird variation of what is really offered in Japan. I never heard of California Roll before I came to the Valley.
Sumo – those big fat guys with their butt cheeks hanging out. The biggest sumo wrestler that I remember is Konishiki. He was about 6'2″ tall and weighed a whopping 650 lbs! He was my height but more than three times my weight. Oh, yeah…and he was made in the US – from Hawaii.
Typhoon – this one might be open to debate – but the Japanese word is taifu – it sounds exactly the same but forget to say the 'n' at the end.
At any rate, if you want to make a good impression on a Japanese friend, tell them thanks for the new words in the English language.
Talk to Bill and others about their experiences raising bi-cultural Japanese-American kids.